What an unusual start to our school year!  I trust everyone safely rode out Hurricane Irene, a.k.a. Tropical Storm Irene.  Our school lost power and space for our 2-day professional development for teachers was kindly provided by the Dover Sherborn Middle School.  Thank you to the headmaster and the teachers who generously let us use their classrooms. (As you can see, I drafted this a month and  a half ago and am now just getting this posted … where did the beginning of school go?!)
I attended a fabulous workshop provided by AASL (American Association of School Libraries) and MSLA (Massachusetts School Library Association) on AASL Standards and the 21st Century Skills.  It was facilitated by Pam Berger.  What a great experience: to work with fellow school teacher librarians and such a fabulous facilitator to understand how these standards and skills are related and are essential for our students.  These standards and skills can and should be embedded into all content areas.  We looked at Barbara Stripling's Inquiry Model**.  Below is my application of her model for our students.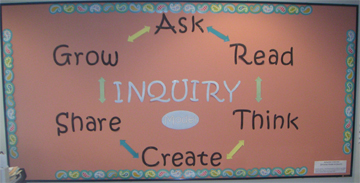 I wanted the language to be similar to the language we use at our school.  For example, our school mission statement has children growing* … Stripling used the word "Reflect"; which when this is done by our students, they 'grow'.  As you will notice in the model, the arrows go in both directions.  This cycle can be started and reversed as the need dictates when students are "Inquisitive".
It was a wonderful, informative, workshop which was greatly enhanced by all the knowledge of the participants as well as the presenter.  It truly was a collaborative effort and inspiring.  Perfect for heading back to my students.
Happy Inquiring!
Mrs. Chase
* Mission Statement: Chickering School is a place where children learn, laugh, grow, care and make a difference.
** Model adapted from Striplings Model of Inquiry.
Stripling, Barbara. "Teaching Students to Think in a Digital Environment: Digital Literacy and Digital Inquiry" School Library Monthly. April 2010: 16-19. Print