Our Kindergarten Scientists are so excited!  Our plants are growing so fast that we needed to move them into bigger containers.  They are now safely moved and we hope not to have to move them again.
  The first two pots on the left reflect 33 days of growth since planting and 29 days for the pots on the right.  We are all amazed at how quickly they have grown.
I am constantly amazed at how observant these 5/6 year old scientists are.  We have been using the flex-cam and digital projector to see these plants "up close".  The scientists noticed that there appeared to be "hair" growing on the stems and leaves of the pumpkin plants.  They incorporated these observations with either dots along the stems or small lines on the stems and leaves in their drawings.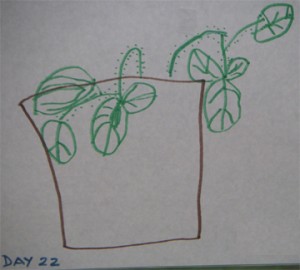 Notice the different drawing of the veins on the plant?  This scientist noticed that the sprout leaf veins are different from the pumpkin leaf veins.  Can you see which is the sprout leaf? Hint: the veins do not branch off of each other on a sprout leaf.
The Kindergarten Scientist decided we couldn't measure the height of the plants anymore since they are all lying down.  They were also afraid we might harm the plants by handling them to take our measurements.  So they decided to count Pumpkin leaves (P) instead.  They also wanted to count the 'Baby Pumplin Leaf" on the plants. (BP)  Their Pumplin Log now reflects this change.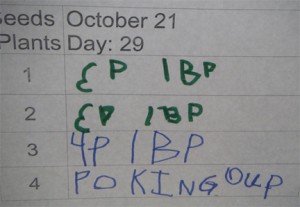 In one class they thought we would only have 3 pumpkin plants even though this class planted 4 pumpkin seeds since three seeds germinated so quickly; the students were thrilled to see that the fourth pumpkin seed has just begun "poking up".
My big concern is that the library is still very cold … I'm concerned that the plants won't grow as they should due to the cold; trying to come up with a plan for more heat.  In their larger pots, they are too big for my warming tray.
We are introducing Photosynthesis this week.  We are asking the students "What do Plants eat?"  Plants make their own food!  We are using the Rebus below to help them understand.
Please hold warm thoughts for our experiment in growing Pumpkins indoors!
Thanks for reading,
Kindergarten Scientists and Mrs. Chase