On March 4th,  we had an amazing experience. Ms Wood's 3rd grade class chatted with a sculptor, Meredith Bergmann, via a Google Hangout!  Ms Bergmann created the wonderful Boston Women's Memorial, which is installed on Commonwealth Avenue, Boston, Massachusetts.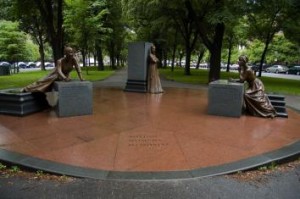 She graciously agreed to 'meet' the students so that they could interview her about her experience creating this memorial.
The students will be embarking on their Massachusetts Famous Biography Unit, which Ms Wood and I are piloting this year to give the students a real-world problem to solve. They have been asked to design a stamp in commemoration of a famous MA person and present their reason for their design and person being considered for publication. We hope to eventually give the students a choice as to the medium for the commemoration and involve the Art Dept.
Ms Bergmann explain how she went about her research, how she decided on the poses, quotes, etc., she used to create this memorial and than talked about her presentation to a committee to approve this design. She also shared with us one of the 1/2 scale models created before she made the final clay sculpture.  We were all entranced by her experience in creating these wonderful sculptures of 3 important women of Massachusetts.
The students have been busy working on their own commemoration of their famous Massachusetts  individual.  They are looking forward to presenting their projects and sharing them with Ms Bergman.
We thank Ms Bergman for being so generous in sharing her expertise and time with us.
Mrs. Chase  and Ms Wood's class
image: Boston Art Commission. "Boston Women's Memorial". 5 June 2013
< http://www.publicartboston.com/content/boston-womens-memorial >